Papaver rhoeas is the botanical name for this weed; common names for it include common poppy, corn poppy, corn rose, field poppy, Flanders poppy, or red poppy. It is a notable annual agricultural weed, appearing in cultivated fields during the summer all over Europe.
The leaves, stems and bud coverings are a blue-green, the four-petalled flowers are a rich scarlet with a purple base to each petal, and the seed capsule is an intriguing shape, a bulbous cup with a little cap to keep the rain away from the seeds and to help distribute them in the wind..
The field poppy produces an enormous amount of pollen, one of the highest pollen-producing plants in the UK, and is therefore an important food source for pollen-collecting/consuming insects, such as many species of beetle. As far as human consumption goes, the poppy's black seeds are edible, and can be eaten either on their own or as an ingredient in bread; oil made from the seed is highly regarded in France. The petals contain a red dye which is used in some medicines and wines; in traditional folk medicine, it was used for gout, aches, and pains. The petals were used to create a syrup that was fed to children to help them sleep, although there is no opioid content.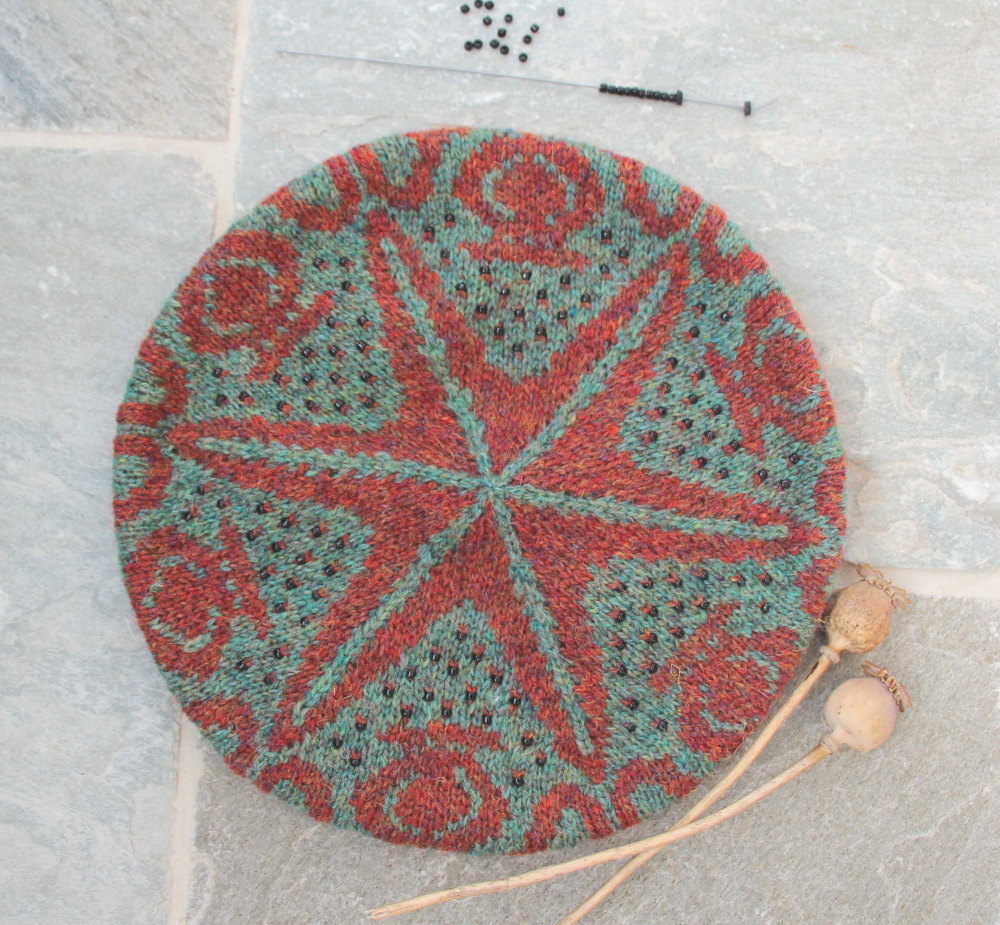 My design for this tam ignores the beautiful but overly-familiar flower and instead uses the nodding flower buds, the seed capsules and the tiny black seeds. The wheel of the tam is a representation of the cap sheltering the seeds in their capsule. The seeds can be worked as just colour, or you can add small black beads making this an unusual and interesting tam.
The Weeds Collection can be purchased from the Granary Knits Payhip Pattern Store.
The whole Weeds collection, as well as individual patterns, is also available from Ravelry.