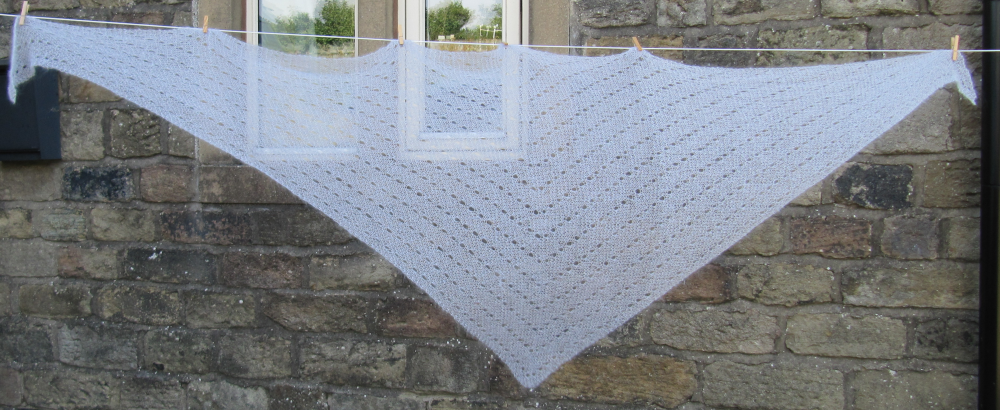 Harden Moss is the second in my Yorkshire Collection of patterns for shawls and other accessories. I am deeply inspired by the landscape around my home, and this collection of knitting patterns is my way of describing and celebrating the beautiful Yorkshire landscape that surrounds me. The Collection consists of shawls, wraps, and even a cowl, inspired by the rich textures and colours of the area around my home. The patterns vary in difficulty from beginner to more experienced knitter, but none, I hope, is too complicated. They are designed with chart knitting in mind, one pattern at least consists of one very large chart, but I have provided computer-generated written instructions as well.
Sometimes the shape of an area has inspired the shawl design, sometimes the movement of the air over the landscape. Harden Moss was inspired by the shapes of reservoirs in the High Peak District of Derbyshire and West Yorkshire. These typically have a distinct wide dam wall at one end then gradually narrow, reflecting the shape of the valley that was flooded to create them. There are many such reservoirs dotted about all over the Peak District, varying in size from a small tarn to an entire rift such as Longdendale, flooded to provide water to local communities.
This shawl is knit in a lofty laceweight yarn on large needles, making it a quick but satisfying project. I used Rowan Kidsilk Haze, but there are many other similar yarns that will give you excellent results. Consult Yarnsub for a list of these. As always, when substituting yarn, be sure to knit a swatch to check that you are able to get the right gauge for the pattern.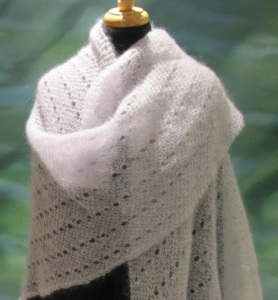 This pattern has been tech edited, but not test knit except by me. Full pattern support is available by emailing me.
Harden Moss Shawl pattern can be purchased from the Granary Knits Payhip store.