Did you know that a group of geese on the ground is known as a gaggle, but in the air, flying in V-formation, it is known as a skein? I love the idea of geese and yarn being connected in this way.
Wild geese fly over our house every Autumn, sometimes just one or two, sometimes in huge skeins of a hundred or more birds. They gather around our local reservoirs, ready to move off to their winter pastures. Their flight and call has long been a source of inspiration to me, and feeds into my sense of place in this landscape of dry stone walls, small streams and becks, hills and reservoirs.
The Wild Geese Hap is my response to this Autumnal landscape. Its texture denotes the skeins of geese in flight, becoming gradually larger as the hap grows, divided by ridges forming the dry stone walls, and ending with the ripples on the surface of the reservoirs, in the colours of the Canada Goose. The hap can be finished with either a plain cast off, or a knit-on edging in a triangular lacy design which looks uncannily like the wing of a goose in flight.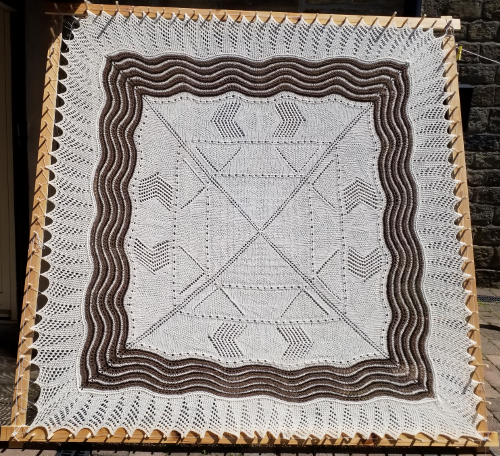 The pattern for Wild Geese Hap is available from the Payhip Granary Knits Pattern Store. It features two sizes, a 2m square hap or a 1m square lapghan. It is knit in scrumptious aran/worsted weight yarn in lovely natural colours, and in the round from the centre out. I used Daughter of a Shepherd Ram Jam and Castlemilk Moorit DK (which knits up as aran weight) yarns for both the hap and the lapghan. I love the sheepiness of the DoaS yarns, their wonderful bloom when they have been washed and dried, the natural colours of sheep, and the sheer warmth of the finished item.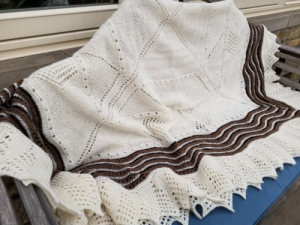 Both sizes of the Wild Geese Hap are worked from charts, from the centre out. The blanket size is shown above with the lace border; the lapghan, shown below, has been finished with a very stretchy simple cast off, which accentuates the rippled edging and the points at the corners.