I have been spending some time this Autumn reviewing and cataloguing my stash of yarn, as I have so much now acquired over so many years that I am not fully aware of what I do have. It has been a very worthwhile experience, and has already produced several parcels of yarn donations to Knit for Peace. If you don't know of Knit for Peace please do check them out, they are a fantastic charity collecting knitted and crocheted items, yarns, and tools, which they distribute all around the world to those in need. Even if you have no items to donate, you can still Sponsor a Sack, perhaps in memory of a friend or loved one, to meet the cost of sending those parcels.
I have been using the fabulous Ravelry stash tool to build my online catalogue of yarns, and it has really helped me view my stash in a new light. I already have lots of new ideas for using items from stash, both for impromptu knits and for using my Ravelry queue to suggest yarns to use. If you have not used this function then you really should as it is an excellent stash-busting tool. Here's how it works: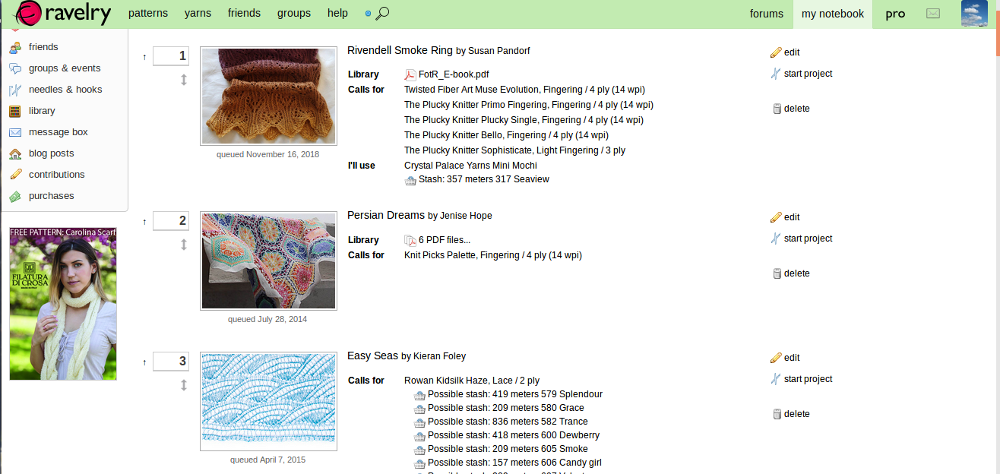 Ravelry knows which yarns and how much yarn a pattern requires, and if you have a matching yarn in your stash, it suggests it, as in the example of Easy Seas where it has found that I have several colours of Rowan Kidsilk Haze with suitable quantities for this pattern. I can also mark a specific yarn to be used for a pattern in the queue, even if it is not the yarn specified in the pattern, as in the example of Rivendell Smoke Ring cowl, where I have marked a Crystal Palace yarn to be used from stash, as I have no Plucky Knitter yarn.
It is unlikely, but with a little analysis, I could probably knit everything on my queue, and much more, just from the yarns I have in stash! I may never have to buy yarn again (said no knitter ever!)
These two are a discontinued yarn from Louisa Harding called Grace Hand-Dyed. They are a DK weight yarn,  very silky and gorgeous bright colours. I bought them in a sale some years ago, but never used them because I rarely knit in DK and could not think of what to do with them. Having found them in my stash I now have an idea for a new design using them up and giving me something wearable and cosy. Watch this space for a free pattern that may help you use up some items from your stash, too.