Today I have been adding to our already extensive range of stitch markers; a new set of six markers, and two styles of single marker are now in store.
The Chess Set of stitch markers features six lovely solid 3D charms in the form of chess pieces, one each of King, Queen, Bishop, Knight, Castle/Rook, and Pawn. Each piece is distinctive and rounded, and the set as a whole is available as either knitting or crochet markers.
The Crochet Queen is a charm I have been looking for for some time. Similar in shape and concept to my existing Knitting Diva and Knitting Queen stitch markers, these markers are slightly larger and flatter with a different finish. The Crochet Queen markers are a delightful addition to the range and I hope will find favour with crocheters; Crochet Queen is also available as a knitting marker.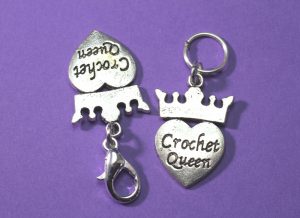 Finally, to herald the Spring in the Northern Hemisphere, I have added the beautiful Tulip stitch marker. This is an elegant Tibetan silver charm, gracefully curved and finely detailed. It is available as either a knitting or crochet marker.