Measuring for a Bracelet with a Clasp

In order to get the right size bracelet for you, you not only need to know the basic measurement of your wrist, but also the required amount of ease. For best and most accurate results, just follow these easy steps.
Using a tape measure or a length of string, measure your wrist between the wrist bone and the hand. This will give you your basic measurement.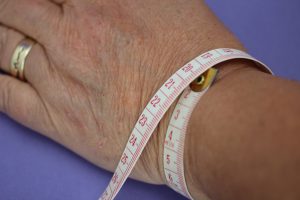 Decide what amount of ease you want. Do you want a snug or loose fit? This is a matter of individual taste, but as a guideline, I would suggest that, if you want a delicate bracelet with a thin chain, a snug fit might be most appropriate. Larger, less delicate bracelets, are usually worn with a comfort fit; and bangles or thick cuffs are normally worn with a loose fit. Bearing these points in mind, take your basic wrist measurement and add the following depending upon your required fit:
Snug fit:    add 5mm to 12mm  (1/4″ to 1/2″)
Comfort fit:    add 20mm to 25mm  (3/4″ to 1″)
Loose fit:    add 32mm (1 1/4″)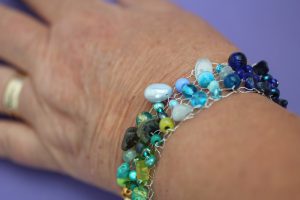 So, for instance, my basic wrist measurement is 18cm (just over 7″) ; for a snug fit I would buy a bracelet 19cm (7 1/2″) in length; for a comfort fit I would buy a bracelet 20.5cm (8″) in length; and for a loose fitting bangle, I would look for one 21.5cm (8 1/2″) in length.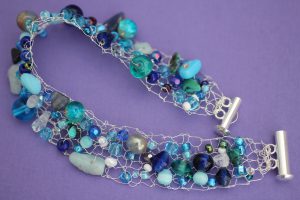 Measuring for a Bangle Bracelet
A bangle bracelet has to be large enough to fit over the hand but not so large that it constantly slips off! The important measurement to take for a bangle is the widest point of the hand, that is around the hand with the thumb either extended out to the side or tucked under the index finger. It will not be necessary to add any ease because the width of the hand provides the ease. With knitted or crocheted silver wire bangles, there is a small amount of stretch as the bangle is pulled over the hand, making them an ideal style for a casual as well as a formal bracelet.
Place your hand on top of the tape measure (or piece of string), at the widest point, as in this photograph, and wrap it around your hand firmly: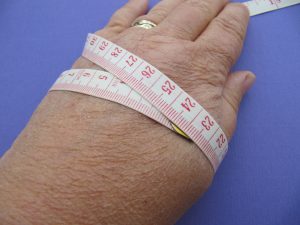 The figure given is the minimum you will be able to fit over your hand comfortably but also the maximum, because you do not want your bangle to slip off.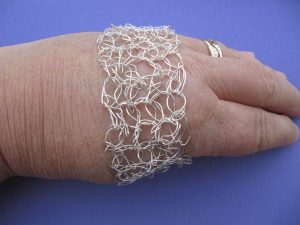 Remember that crocheted and knitted wire will give. As a guide, my wrist measurement is 18cm but around my hand it is 22cm; I can fit a 20cm bangle over my hand and it sits comfortably around my wrist without slipping off.
Measuring for a Necklace
Necklaces can be worn at virtually any length, but the most popular lengths are 40cm (16″ approx.) – known as the Choker – and  45cm (18″ approx.) – known as the Princess. Of course, these lengths are designed for the average person, and individual tastes differ. Refer to the drawing below to select the appropriate standard length.
If you already have a favourite chain necklace, simply measure that before buying another chain or bead necklace. If you do not have a favourite, simply take a length of yarn or a tape measure and throw it around your neck, adjusting it until you arrive at the most comfortable position. If you are planning on wearing the chain on its own, you will probably want to wear its slightly higher than if you were to attach a pendant as the pendant will drag the chain down and alter the shape around your neck.